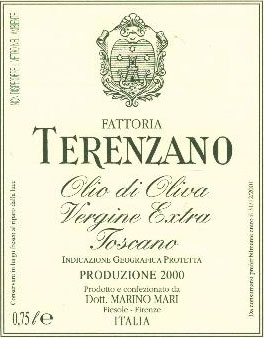 tuscan extra virgin olive oil i.g.p.
Agriturismo fattoria di terenzano 36 ettari di oliveto specializzato.
The oil of Terenzano fully respects the rules established by the I.G.P. mark "Tuscan Extra virgin olive oil", either with regard to the partition of the varieties used, (Frantoio, Moraiolo e Leccino), or to the means of extraction of the olive oil obtained through the shortest working schedule and temperatures never exceding 25-30°C.
This lets the olive oil save all the flavour and taste of the fruit.
The extravirgin olive oil is on sale directly at the farm and can be delivered to your home in a 5 lt tin container.
You can requested directly at:
marino.mari@libero.it
Fattoria Terenzano via della Rosa, 15 - 50061 Compiobbi - Fiesole - Firenze - Italy P.I. 03199430483
tel/fax +39 055 6593021 - e-mail
marino.mari@libero.it