fattoria di terenzano, how to get to the famholiday in the florentine country side - exit firenze sud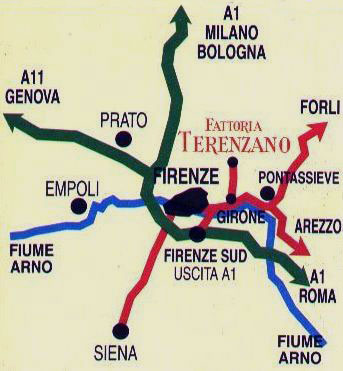 The farm holiday is situated in the hills at 7 km from Florence.
Fattoria Terenzano
via della Rosa, 15
50061 Compiobbi - Fiesole
Firenze - Italy
P.I. 03199430483
tel./fax: +39 055 6593021 -
e-mail: marino.mari@libero.it

Directions to get here are as follows:

A1 national motorway, exit FIRENZE SUD (do not exit at Firenze Nord!).
Take access route all the way to viaduct over Arno river, turn right attraffic light, towards Pontassieve/Arezzo.

After you have gone beyond Florence city limits, continue for another 3 kilometers until you come to traffic light at GIRONE location, then turn left under small railway bridge.

After bridge, curve left, then wind to your right and take your first left (narrow road between houses).
Soon after, there is a cross roads, take your right (via Campati) and start climbing into hills, along a narrow, winding, paved road.

After about 1 kilometer, you will find a cross roads: take your right (via della Rosa); then a second: also take your right.

The road levels off and then there's a short descent until you come to a large elm tree: turn off to your right along an unpaved driveway, and you have arrived!
Fattoria Terenzano via della Rosa, 15 - 50061 Compiobbi - Fiesole - Firenze - Italy P.I. 03199430483
tel/fax +39 055 6593021 - e-mail
marino.mari@libero.it